Winter Garden History Center
101 South Boyd Street - East Annex Building
 Open Monday-Friday, 1:00pm-5:00pm

The Winter Garden History Center is home to the archives, research library and administrative offices of the Winter Garden Heritage Foundation. WGHF collects historic information from several communities including Winter Garden, Oakland, Windermere, Ocoee, Tildenville and Killarney. Winter Garden History Center, Winter Garden FL 34787 History Museum.

Residents can visit the History Center and research the archives weekdays from 1-5pm, preferably by appointment.The History Center's collections consist of historical photographs, local family files, business and telephone directories, newspapers, local school yearbooks and memorabilia, Native American artifacts, movies and videos filmed in and around the area, oral history tapes and much more. The WGHF will provide Tour Groups and Educational Field Trips upon request.

Winter Garden History Center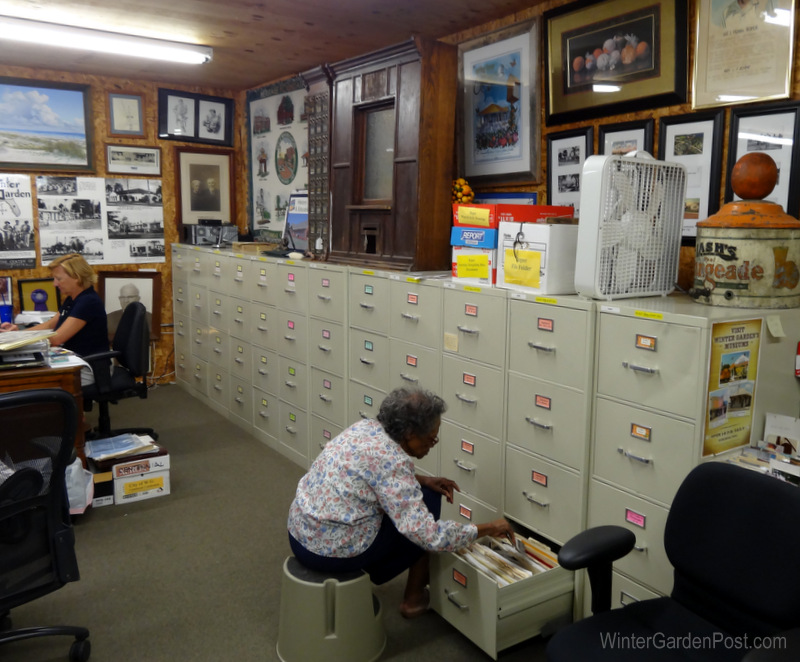 The History Center's files are loaded with historical information, newspaper articles, maps and photos. Topics such as Architecture, Black History, Bloom and Grow Garden Society, Boy Scouts, Citrus Labels, Civic Events, Debutantes, Edgewood Ranch, Farming Labels, Garden Theatre, Girl Scouts, Gotha, Ice Plant, Kiwanis Club, Lake Apopka, Maps, Masons, Schools, Military, Model Airplanes, Movie Theatres, Music Fest, Native Americans, Nurseries, Cemetery, Oakland Gazette, Ocoee Police, Race Riots, Railroad, Rotary Club, Sports, West Orange Airport Authority, West Orange Arts & Historical Association, Windermere and Womens Club, to name a few!

The History Center is located just behind the Railroad Museum and is free to the public. For an appointment to research the archives call 407-656-3244. Winter Garden History Research Center 34787

To learn more about the History of Winter Garden, visit the
Heritage Museum at 1 North Main Street.

Estimated move date to the new location is December 2014.

---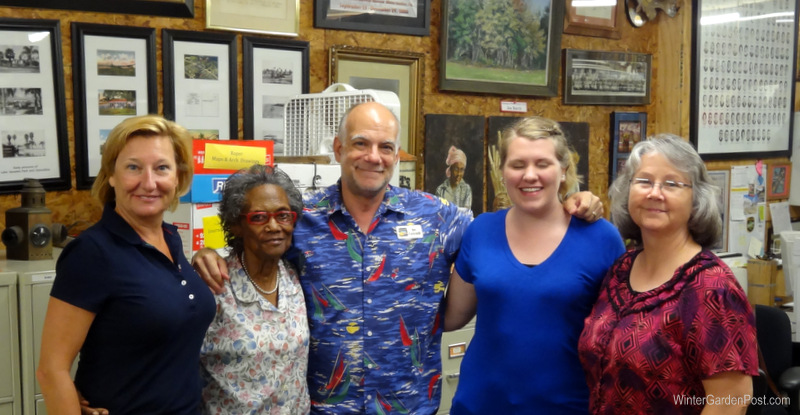 Pictured in photo: Lynne Sylvester-Archivist, Ruby Lee-Volunteer Archivist,
Jim Crescitelli-Archivist & Researcher, Katherine Bowers-Intern/Volunteer,
Margie Severance-Bookkeeper. Not pictured: Kay Cappleman-Director

---
---
Winter Garden FL 34787 History Research Center, Winter Garden History Museum 34787, Winter Garden Florida History Museum, Winter Garden Research Center, Winter Garden Heritage Foundation, Winter Garden Florida 34787