Think Minion
20 S. Main Street • Winter Garden, FL  34787 • 407-497-1210
---
Think Minion co-founders Chris Chan and Patrick Bottinelli
---
Step inside the offices of Think Minion in downtown Winter Garden and you will be transported into a world of creativity and wonder.  Drones and hover boards are scattered around the office while pictures of Dark Wing Duck, Goku, and various other characters from your childhood adorn the creative space that co-founders Chris Chan and Patrick Bottinelli call their man cave.  Think Minion serves clients all over the state of Florida and they specialize in video production, editing, graphics, and animation.  Through their unique blend of personality, creativity, and innovative technology, Think Minion is telling a story for their clients.  "We like to think of ourselves as digital storytellers with a creative drive to perfect everything that we do."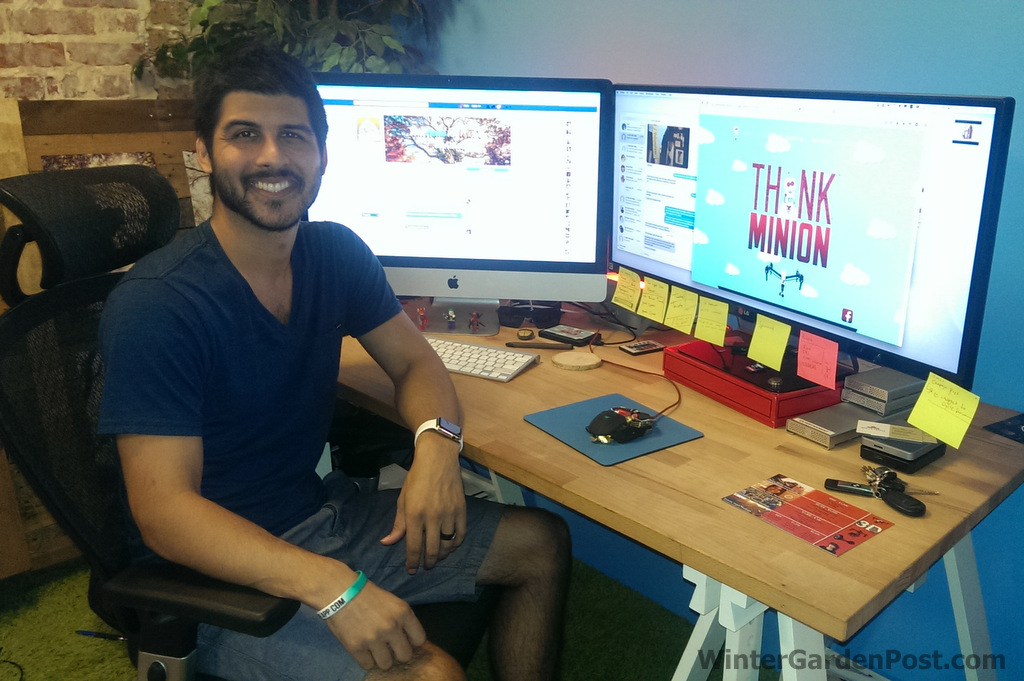 Co-founder Chris Chan

---
Known around town as "the Minion guy", Chan is no stranger to the charming little city of Winter Garden.  He attended Lakeview Middle School as a kid and is a graduate of West Orange High School.  "My earliest memories are of this city and how beautiful it is.  I used to dream about working in Winter Garden and now I not only work here, but I own a business here.  It is like a dream come true."  Although their man cave looks like a place where you could kill a great deal of time, Chan and Bottinelli spend hours upon hours working on projects for high profile clients like The Walt Disney Company and the Golf Channel.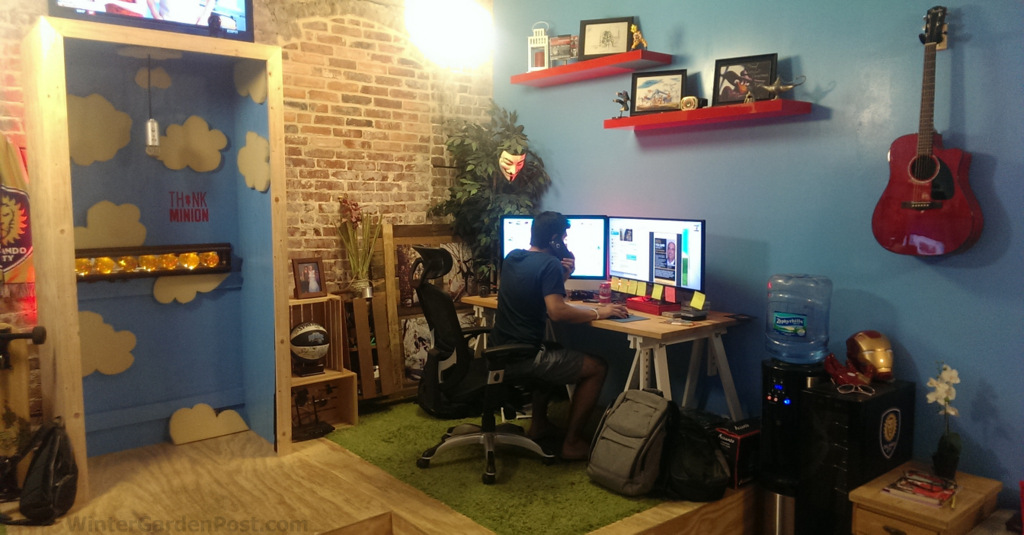 Co-founder Patrick Bottinelli
---
On any given day Bottenelli, who Chan calls "the motivational heart of our company", can be seen carrying 3D mapping cameras from the second floor office building out to various commercial and residential properties around the city.  From there the two are able to digitally render a location and create a 3D representation online that allows customers to virtually shop and browse the company's store on the web.  In addition to their parent company, they also coordinate a secondary company called Sky Minion, which is an aerial cinematography company that uses drones to film television commercials and large construction projects like the new parking garage opening in the downtown area.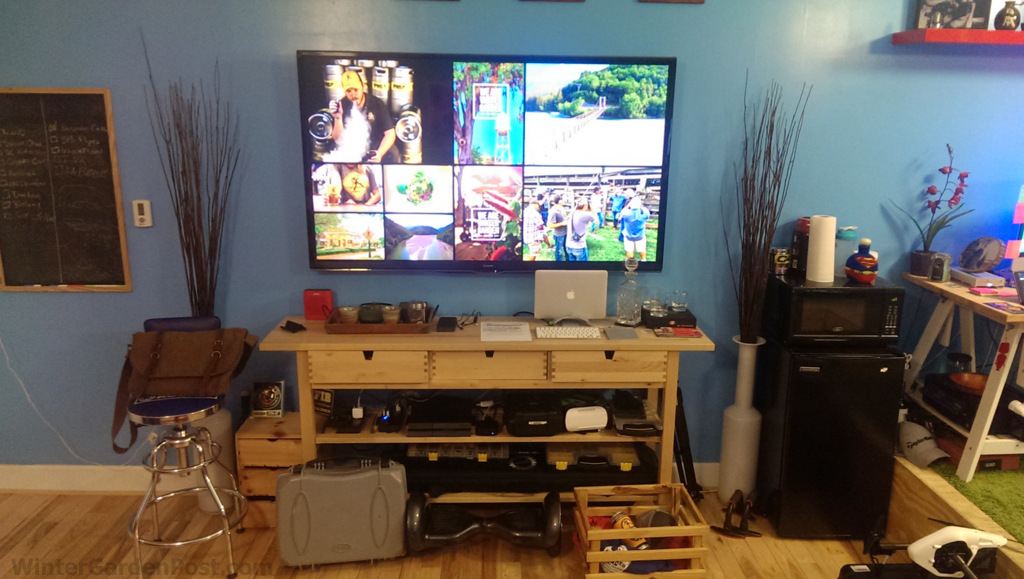 According to Chan, the concept of Think Minion involves giving back to the city that has given him so many pleasant memories in his life.  He has developed a change giving app that will benefit local charities and change the way they are able to generate and collect donations.  The app, which is scheduled to launch at the end of September, will allow a user to donate and track their monetary gift with organizations to show how their money is being used.  "It provides a greater sense of accountability for charities and the donor can see what their money is being use for, which makes them feel better about the gift."
Whether you are looking for a 3D image of your company location, advertising and marketing for your products, or even an animated business card, drop by Think Minion located at 20 S. Main Street Suite 240 in downtown Winter Garden and let them tell the digital story of your company or organization.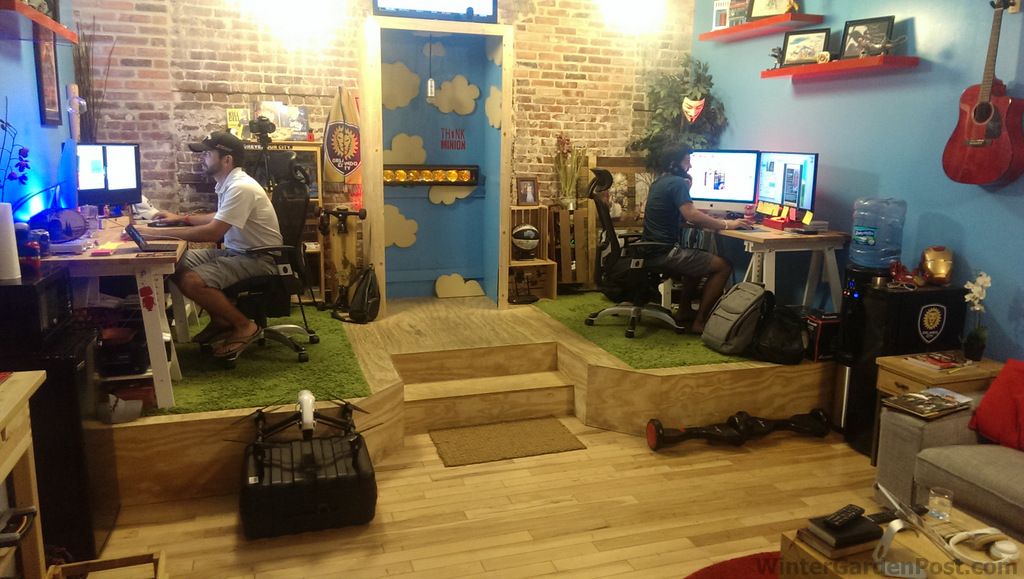 by Eric Calabrese

---
Follow the Winter Garden Post on Facebook!