Farewell Milfred The Rooster


R.I.P. May 24, 2018
Milfred The Rooster wasn't just any ole rooster in the Town of Oakland. He was a famous rooster that received a Proclamation with his own name!
Milfred was hatched April 14, 2013 with his Mama Mo and family by his side with the video rolling to capture the remarkable moment to remember and share with everyone that was awaiting the magical moment with them.
Milfred, originally named Mildred, was renamed the day he began to cock-a-doodle-doo at the age of 6 months old. His vocal cords (and lungs) quickly grew into the loudest sound you'd ever hear from a rooster. As a matter of fact, people riding up and down the West Orange Bike Trail in Oakland would hear Milfred talk and they would cock-a-doodle-doo right along with him!
When Milfred was 8 months old, he wandered away from his back yard making his family extremely worried about him. Through social media, everyone in the area tried to help his family find him. After missing for over a day and a half, he turned up at the school where his Mama Mo worked at that time and his sister Hannah attended. That adventure led to television interviews, newspaper articles written about him and visits from children all around town.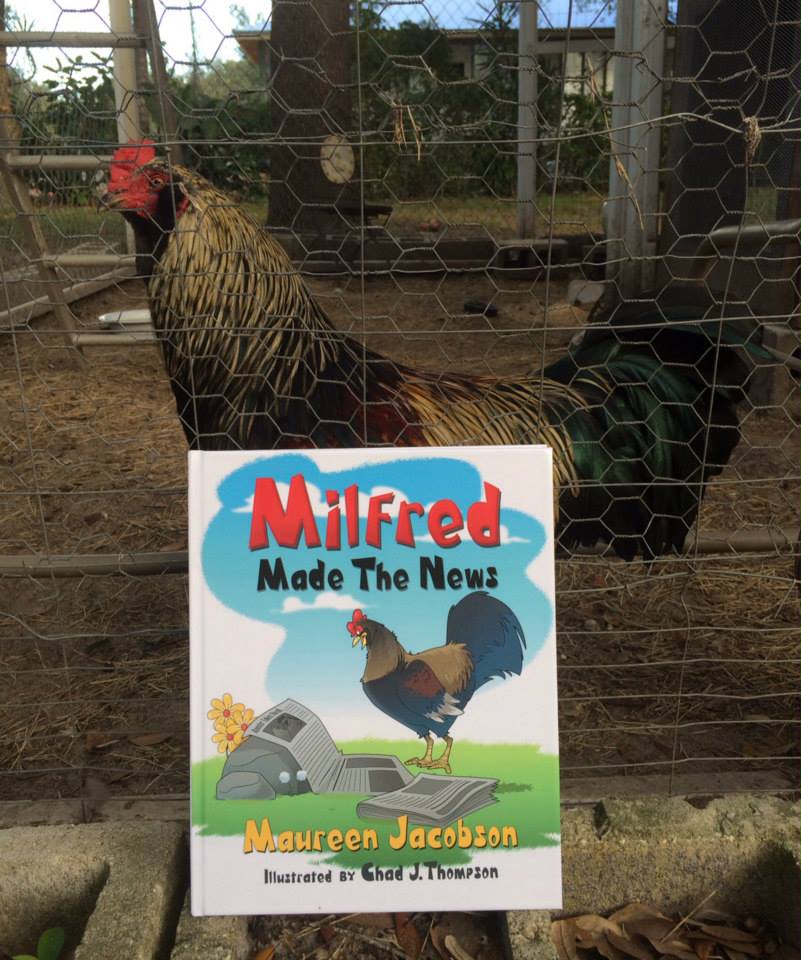 That adventure turned into an award winning book called "Milfred Made The News". It's a children's book based on the true story of Milfred the curious rooster's adventure after he left his back yard.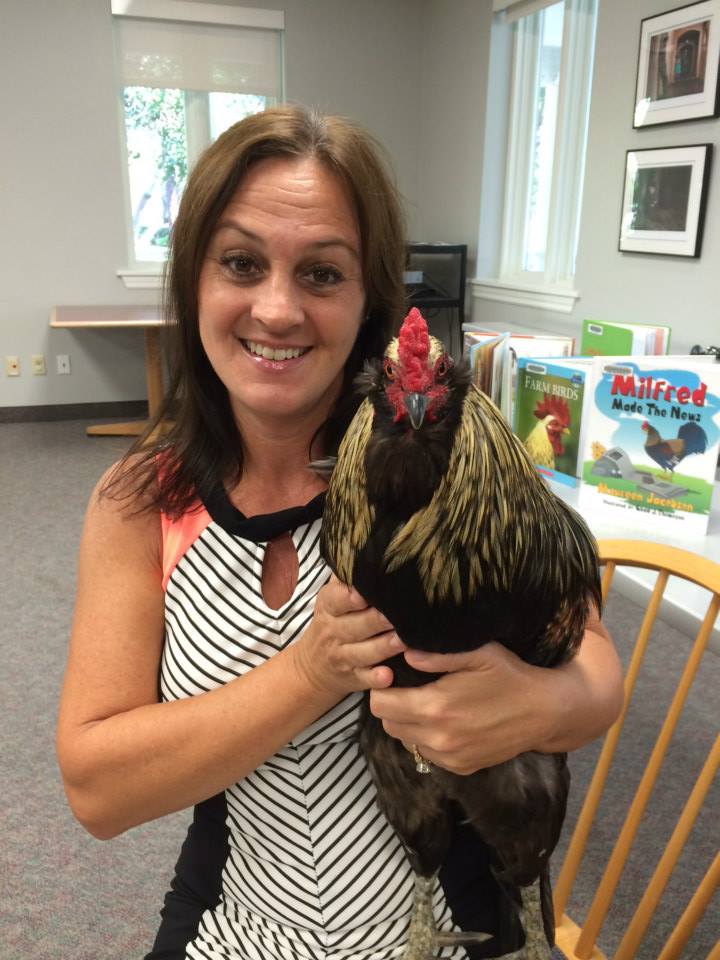 Milfred and his Mama Mo would attend book readings and signings across the Orlando Area. As a matter of fact, while reading at both the Windermere Library and Winter Garden Library, he was the quietest person (well, animal) in the building!
On April 14, 2015 (Milfred's 2nd birthday) Oakland, FL Mayor Kathy Stark signed a Proclamation naming that day Milfred The Rooster Day! That was such an honor for us as a family knowing how much Milfred meant to not only us but to "our" town.
Milfred was an amazing and smart rooster. He would welcome the sun each and every morning with his beautiful – bold voice. He would come running whenever his Mama Mo would call his name. He would say "bless you" every time he'd hear Mama Mo sneeze. (It was the cutest thing!) He would warn his hens (and grandsons) of approaching hawks to protect them. He would have full reign of the back yard to play in and yet he stood at the sliding glass door for hours on end wanting to come into the house. If he was lucky enough to come inside, he would like going into the bathroom and talk to himself on the bathroom sink into the mirror. He absolutely loved having his picture taken. (You can see for yourself on his Facebook Page "Milfred The Rooster".)
Milfred was a finalist (out of over 100 contestants) in the Orlando Pet Guide Magazine in the 2015-16 season and was featured on page 54.
One year he helped make the Thanksgiving Day dinner by looking into the oven to give his expert advice and cooking instructions.
Milfred loved watermelon, meal worms, grapes, blueberries, French fries and mashed potatoes. He would eat the mashed potatoes from a spoon and say "Mama" and "nom, nom, nom". He would run around in his private fenced-in coop, kick his favorite soccer ball and chase his boxer sisters, Bella Mae and Maddie B.  As matter of fact, Maddie B would sit with her back against Milfred's fence just so he could peck/scratch it for her.
Milfred was like a guard dog….he would welcome Mama Mo and family every time he heard their car pull up in the front yard.
He certainly made his voice known to everyone that Mama Mo talked to on the phone while she was on a business call since she works at her home office. "Is that a rooster" they'd ask? "Yes", she would have to explain. "That's my rooster Milfred".
Now, the words you're reading are not only a thing of the past, but they're the only memories that Mama Mo (Maureen Jacobson) and the Jacobson family will ever have of Milfred.
On May 24, 2018, Milfred went to his forever home with God in heaven after not being able to recover from wounds he sustained after an attack. His Veterinarian, Dr. Terri Parrott D.V.M. of St. Charles Veterinary Hospital in Davenport, FL did everything that she could to save him, but it was just too late and traumatic for him to recover.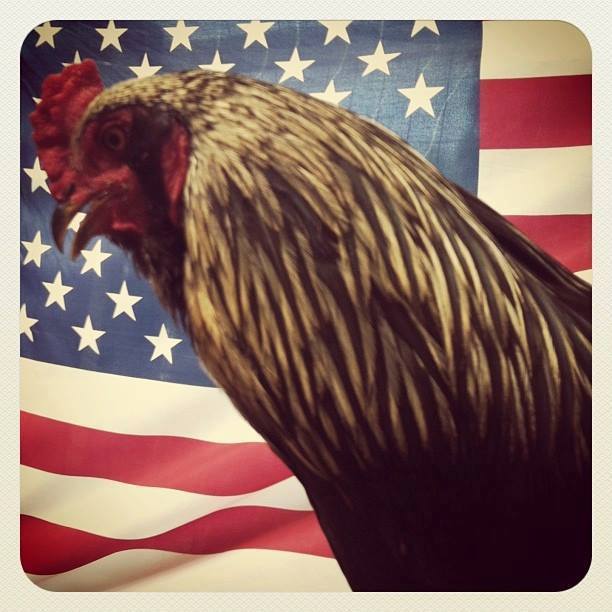 The back yard just isn't the same without him. Family, friends and neighbors miss him and his voice terribly. It's hard to go out there and not see him running over to try and peck your shoes through his fence. He was a feisty ole rooster with the biggest heart and spirit that you'd ever encounter in a rooster.
Mama Mo had dreams of writing more books (which one is completed and a third is started) and having a cartoon of Milfred and his adventures. As a matter of fact, she already has the theme song written! Hopefully, these dreams can still become a reality someday.
Mama Mo always said that when the day came, that she would want to preserve her beloved rooster in the best way possible (not expecting it to be any day soon). With that said, when that fateful day arrived, she contacted Master Taxidermy Studio of Ocoee, FL that has taken on the job to preserve Milfred in the most beautiful, loving way possible. Mama Mo trusted them because of their history of being family owned for well over 40 years and the work they've done at the Oakland Nature Preserve.
Mama Mo was with Milfred when he took his first breath and was with him when he took his last breath. Milfred was her baby boy. To her and her family, he was like a part of the family that will forever be remembered and missed. May his memory live on in his book and whatever book or cartoon that the future will hold.
R.I.P. Milfred. We love you!
---
---